Glide
Your day to day banking is about to get a lot simpler. Everything you need from your transaction account - easy and secure.
No monthly account fee
No ATM fees
Works on all cashless payment platforms
Access Assist
Our Access Assist Account is an everyday 'at-call' account that has no monthly account fee.
Aged 55 years of age or older
Pay your way with ApplePay and Google Pay
Basic
Simplify your life and get back to basics with our Basic Account.
Have a Health Care Card or Pensioner Concession Card
Unlimited transactions
Reduced Fees
Offset Account
Your account balance is 100% offset against a linked MyState Bank Home Loan
Monthly account fee of $8
Loaded with clever new banking tech that shows you where your money goes
Pay your way with ApplePay and Google Pay
SMSF Options
Simple account options to give your Self-managed super fund a helping hand.
Choice of products
Enquire today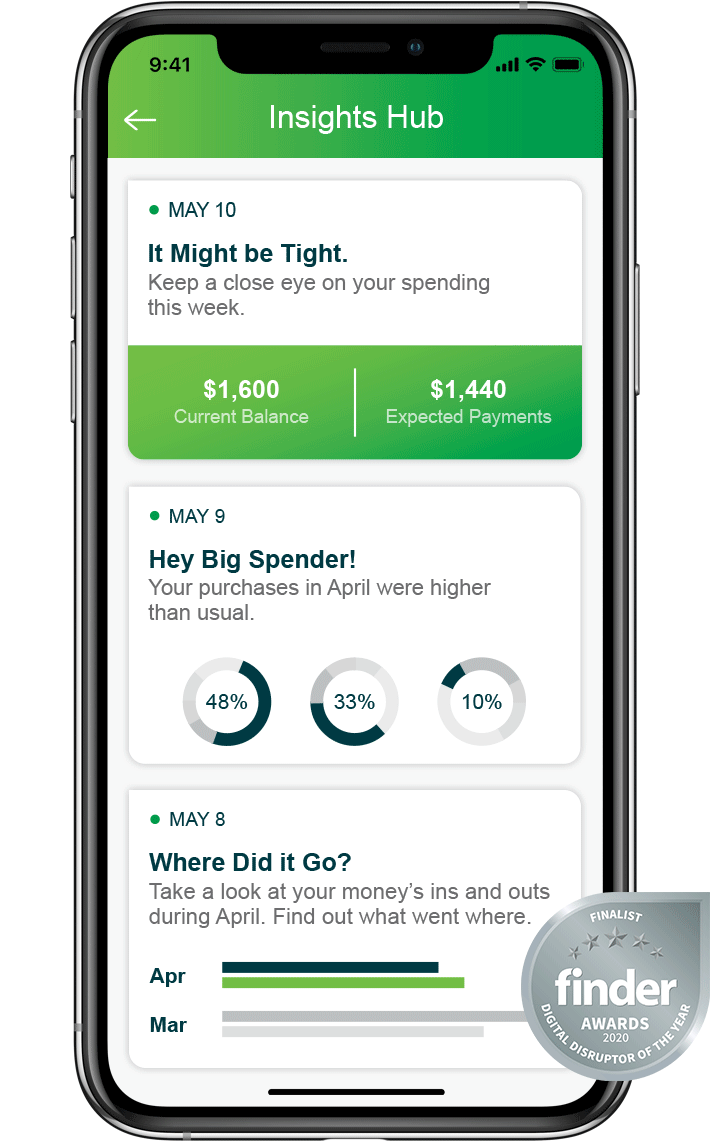 MyState Bank App
Fingerprint login, balance peek & eStatements are just some of the ways we make banking easier.
Osko payments let you send and receive money in under 60 seconds.1
PayID lets you replace account numbers with your mobile phone number.
Frequently Asked Questions
What is a transaction account?
Your regular transaction account is your go-to bank account. This is the account that your income will be deposited into and the account that you use for your daily spending, paying your bills and generally managing your money. Ideally, you want a low or zero fee transaction account and maximum ease of use.
Your account should be as accessible as possible, both via an online website platform as well as available on any mobile device. It should be easy to deposit and withdraw from your transaction account, wherever you are, and it should be easy to link your other bank accounts to your everyday account and to set up things like automatic payments and debits. A transaction account should do most of the hard work for you, including letting you know when your balance is low and when your spending habits suddenly change.
The Glide transaction account from MyState Bank will come with both a physical and a digital debit card that you can save instantly to your favourite mobile device and begin using immediately. We've worked hard to keep your everyday account as accessible as possible with seamless integration with ApplePay, Google Pay™, Samsung Pay and more, as well as no ATM fees when you use any of the big 4 bank ATMs throughout Australia.
You can also seamlessly link all of your MyState accounts, transferring savings easily to a range of accounts depending on your savings goals, and manage all of your money from the MyState Bank App. Our online App features a range of intuitive spending technology including spend categorisation and monthly cashflow summaries, direct debit and bill payment reminders as well as low balance notifications on your Glide account. Track where you spend the most with spending increase notifications and purchase analyses showing monthly spending habits. Enjoy peace of mind knowing that if your account balance dips below your projected spend amount, we'll let you know in time to top it up again. You'll never forget to pay a bill again with manual payment reminders too.
You can deposit cash amounts and cheques for free into your Glide transaction account at either our local branches throughout Tasmania or at over 3,500 participating Post Offices throughout Australia. Please remember to bag your coins in appropriate values and any cheques you wish to deposit must be made out to the same name that appears on your card. Cheques are also subject to clearance periods.
How to open a transaction account?
Opening a new transaction account with MyState Bank takes you less than 5 minutes online. You must be at least 14 years of age, an Australian resident and have an Australian mailing address to qualify. You will be asked for two forms of identification (Driver's Licence, Passport, Medicare card, etc) and that's it. If your application is successful, you will have access to the MyState online banking platform and your VISA debit card will be available to activate online to add to your digital wallet.
1 Payments are typically received in under a minute when made between participating financial institutions. PayID is only available for use with the New Payments Platform through participating institutions.
Apple, the Apple logo, Apple Pay, Apple Watch, iPad, iPhone, Mac, Safari, and Touch ID are trademarks of Apple Inc., registered in the U.S. and other countries.
Google Pay, Google Play and Google Pay logo are trademarks of Google LLC.
Samsung Pay and Samsung Pay logo are registered trademarks of Samsung Electronics Co., Ltd. Samsung devices compatible with NFC point of sale terminals for contactless transactions include Samsung Galaxy Note 5, Galaxy S6, Galaxy S6 edge, Galaxy S6 edge+, Galaxy S7, Galaxy S7 edge, Galaxy A5, Galaxy A7, Galaxy S8 and Galaxy S8+. All devices are compatible with MST point of sale terminals for swipe transactions except for Galaxy S6, Galaxy S6 edge and Gear S2. Loyalty cards are not available on Samsung Pay on Gear.
Fitbit Pay is available on Fitbit Iconic and Fitbit Versa. Fitbit and the Fitbit logo are trademarks or registered trademarks of Fitbit, Inc. in the U.S. and other countries. Fitbit terms and conditions may also apply to using the Fitbit Pay app, please refer to their website for further information.
Garmin, the Garmin logo, and the Garmin delta are trademarks of Garmin Ltd. or its subsidiaries and are registered in one or more countries, including the U.S. Garmin Pay is a trademark of Garmin Ltd. or its subsidiaries. Garmin terms and conditions may also apply to using the Garmin Pay app, please refer to their website for further information.