Bonus Saver Account
Get rewarded with higher interest rates to reach your goals faster.
Bonus interest when eligibility criteria met
Freedom to withdraw anytime
No monthly account keeping fees
Special eSaver Account
The more money you have in your account, the higher your interest rate is.
No minimum balance or ongoing deposits required
Access your funds any time
Christmas Account
Save throughout the year, so you'll have the money you need to cover all those extra costs over Christmas.
No monthly account fees
Access savings at Christmas time
SMSF options
Simple account options to give your Self-managed super fund a helping hand.
Choice of products
Enquire today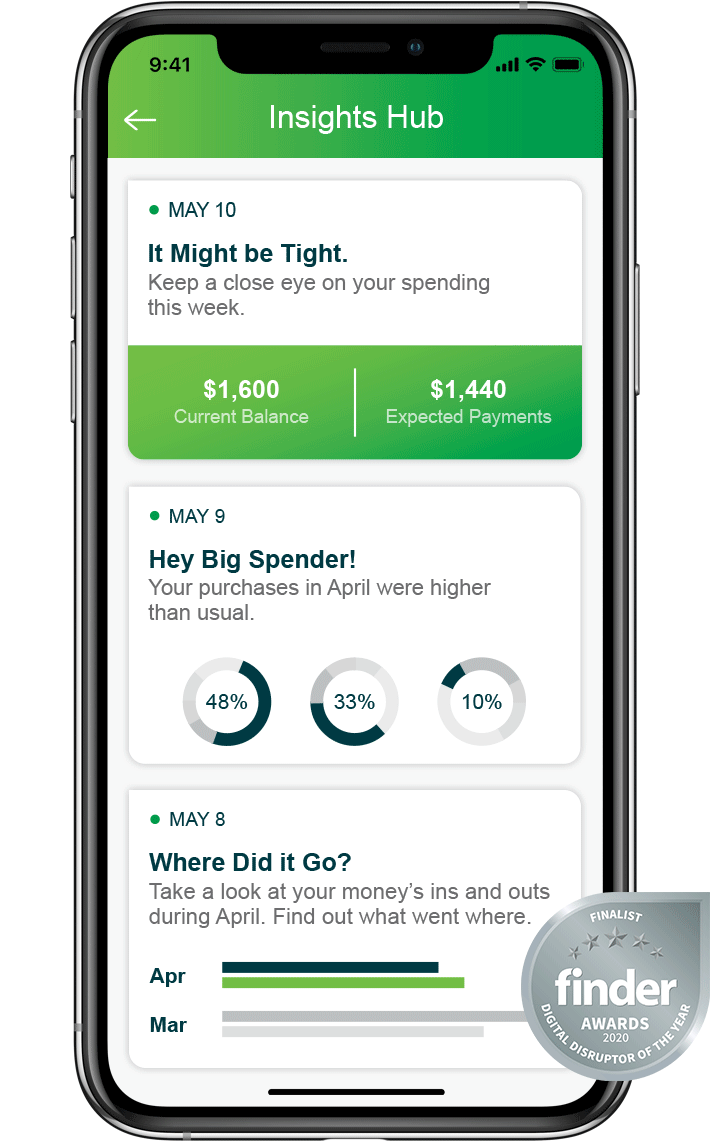 MyState Bank App
Fingerprint login, balance peek & eStatements are just some of the ways we make banking easier.
Osko payments let you send and receive money in under 60 seconds.1
PayID lets you replace account numbers with your mobile phone number.
More about Savings Accounts
Frequently Asked Questions
What is a savings account and how does it work?
A savings account is a dedicated bank account designed to help you regularly save a portion of your income. Ideally, money should be regularly moving into your savings account and not out of it again. Whether you're saving for a big future purchase or just saving for a rainy day, you'll find the perfect fit savings account available at MyState Bank.
Savings accounts should support your savings goals with zero account keeping fees, maximum flexibility, savings incentives like higher rates of interest offered , and a sleek, intuitive and easy to use online App like the MyState Bank App. Effortlessly check, track and maintain your savings goals with intuitive and insightful spending data, balance notifications and more, all from your mobile device.
How do you choose a savings account?
What is the purpose of your savings account? Are you intending to open a joint account with your partner, friend or family member? Do you have long term savings goals or are you looking for a high interest savings account to maximise your earnings in the short term?
We offer our customers the option of choosing between three different savings accounts:
The award winning Bonus Saver savings account rewards customers with higher interest rates as well as bonus interest when eligibility criteria is met. You have the freedom to withdraw at any time and there are no monthly account keeping fees.
The Special eSaver Account is designed to offer customers higher interest rates as their savings grow with no minimum deposit or ongoing deposits required. You can also access your funds from this account at any time.
The Christmas Account is designed to help you reach your yearly savings goals. You can access your savings balance in time for Christmas to pay for things like all of those extra little costs or even a quick holiday away with the family.
To really maximise what you're getting from your savings account you may want to first consider how to compare the options on offer. Start off with what kind of savings account interest rates are being offered. High interest rate savings accounts will make you the most money, regularly paying into your account a percentage of the total held there, usually monthly. You can see month to month the growth of your balance, helping to keep you focused on your savings goals and continuing to reward you for putting a little something aside.
Other things worth thinking about include what kind of limits have been placed on the savings account by the provider. Some banks will limit the amount of money you can withdraw from your account or offer you a lower interest rate if you are regularly withdrawing money from your account. If you are not intending to withdraw your money any time soon then you may wish to consider the MyState Bank range of term deposits. You can choose from terms from 1 month right up to long term deposits of 1, 2 or 3 years for all of our high interest term deposits.
If you intend to withdraw money from your savings account to cover the cost of one-off or regular bills, then you may wish to consider opening an account that doesn't limit how much or how often you withdraw from your balance. Our savings accounts are designed to be flexible, putting your goals first and foremost.
Does opening a savings account cost money?
There are zero fees to open a savings account with MyState, however some accounts will be offered with a minimum deposit amount, like our term deposits. For more information about how much you can start your savings account with, review the different types of accounts online or feel free to speak with a friendly member of our customer care team on 138 001.
You can open a new savings account online with MyState in a matter of minutes. Apply online today.
1 Payments are typically received in under a minute when made between participating financial institutions. PayID is only available for use with the New Payments Platform through participating institutions.
Apple, the Apple logo, Apple Pay, Apple Watch, iPad, iPhone, Mac, Safari, and Touch ID are trademarks of Apple Inc., registered in the U.S. and other countries.
Google Pay, Google Play and Google Pay logo are trademarks of Google LLC.
Samsung Pay and Samsung Pay logo are registered trademarks of Samsung Electronics Co., Ltd. Samsung devices compatible with NFC point of sale terminals for contactless transactions include Samsung Galaxy Note 5, Galaxy S6, Galaxy S6 edge, Galaxy S6 edge+, Galaxy S7, Galaxy S7 edge, Galaxy A5, Galaxy A7, Galaxy S8 and Galaxy S8+. All devices are compatible with MST point of sale terminals for swipe transactions except for Galaxy S6, Galaxy S6 edge and Gear S2. Loyalty cards are not available on Samsung Pay on Gear.
Fitbit Pay is available on Fitbit Iconic and Fitbit Versa. Fitbit and the Fitbit logo are trademarks or registered trademarks of Fitbit, Inc. in the U.S. and other countries. Fitbit terms and conditions may also apply to using the Fitbit Pay app, please refer to their website for further information.
Garmin, the Garmin logo, and the Garmin delta are trademarks of Garmin Ltd. or its subsidiaries and are registered in one or more countries, including the U.S. Garmin Pay is a trademark of Garmin Ltd. or its subsidiaries. Garmin terms and conditions may also apply to using the Garmin Pay app, please refer to their website for further information.