Better banking. It's personal.
At MyState Bank, we're always looking for ways to help you bank faster, smarter and with more confidence. That's why we've introduced a range of exciting new features across our Internet and Mobile Banking platforms, so you can understand more about the way you spend, discover opportunities to save (and stay on track with a friendly nudge in the right direction).
With personalised insights based on your everyday activity and nifty new autosavings features, it's like having your very own financial cheerleader in your pocket. Information, encouragement and action in one place. All you need is an active MyState transaction account to get started.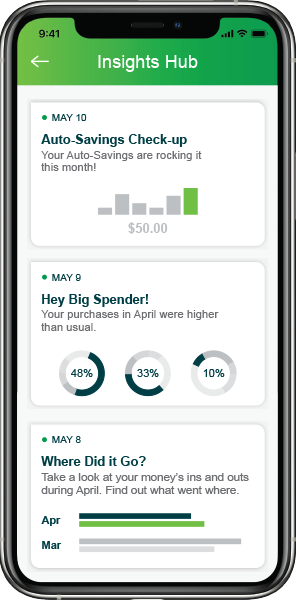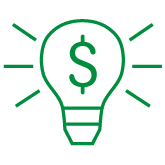 Insights
Insights takes your everyday account activity and turns it into helpful, personalised information about the way you use your money.
It's like personal financial support in your pocket - everything you need to know to keep on top of your bills, manage your spending and maximise your opportunities to save.
Spending Increase

Purchase Analysis

Change in Regular Deposit

Cash Flow Analysis

Boost Your Savings

Balance Too Low

Keep an eye on your spending
with spending hike notifications for when you spend more on something than you usually do (oops)
Never forget to pay a bill again
with direct debit reminders for your automatic bill payments, and bill payment reminders for all those bills you pay manually, but regularly
See into the future
with previews of your money in vs money out each month, plus categorised spending so you can see how much you spend on things like takeaway, groceries and entertainment
Less "uh-oh, we've overspent" moments
with tighten-your-belt alerts for when it doesn't look like you'll have enough to cover your upcoming bills or everyday spending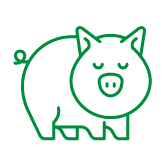 Auto-Savings
Auto-Savings lets you choose to automatically move money across to your savings. It uses your day-to-day account activity to figure out how much you can safely squirrel away, then transfers that money from your transaction account over to your savings account, so you don't have to.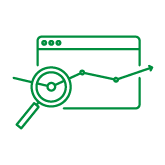 Track your spending
With monthly savings totals so you can track your progress and stay on top of your savings goals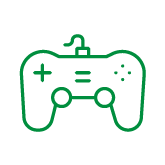 Stay in control
You can pause, resume or stop Auto-Savings at any time. Pause it for 1 week, 2 weeks, 1 month or 3 months, it's up to you!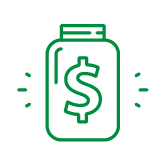 Sit back and relax
Put your savings on autopilot. Auto-Savings helps you maximise your opportunities to save and reach those savings goals quicker!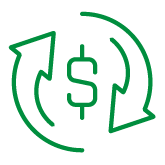 Up your savings game
Auto-Savings automatically moves money to your savings account when you've got a little extra to put away
How do I upgrade to the new features?
Accessing the new features is easy! Simply update your MyState Mobile Banking App to the latest version and access the new features immediately. You can also log in to Internet Banking and explore your unique Insights via the Insights Hub. You'll find it in the top right of your Internet Banking menu.
What account do I need to have to be able to access the features?
You'll need at least one active MyState transaction account to start accessing your Insights.
If you don't already have one, you can open an account account now
Is my data secure?
Keeping your personal and financial information secure is our highest priority.
Insights and Auto-Savings use specific algorithms to analyse your account activity to provide personalised, timely and relevant tips, nudges and advice — helping you manage your day-to-day finances through the MyState Mobile app or Internet Banking.
As always, we take all reasonable steps to safeguard your information, held on our websites or otherwise. Your details are never shared with anyone or used for any other reason beyond providing you with your personal Insights.
For more information on how we collect, use and handle your information, as well as how to make a complaint or provide feedback refer to our Privacy Policy.
How do I know when I have new Insights?
The Insights icon will display a notification when you have new Insights to explore. You'll find it on the top right when you log in to Internet Banking or the MyState Banking App.
I don't have any new Insights today, is something wrong?
Nothing's wrong! You receive new Insights based on your account activity. If you're using your account regularly for making and receiving payments and everyday spending, you can expect to receive 2-3 new personalised Insights per week.
How do you come up with my Insights?
Our upgraded Digital Internet Banking technology uses your account activity to predict, analyse and interpret your spending patterns to and deliver unique and informative Insights that are completely personal to you.
How do I get started with Auto-Savings?
Easy! If you're eligible for Auto-Savings, you'll receive an invitation to set it up via your Inbox.
Open your MyState Bank Mobile App and simply follow the prompts to activate Auto-Savings on your account and start saving!
Activating Auto-Savings is not currently available via Internet Banking, but you can still view your Auto-Savings information.
How do I know if I'm eligible for the Auto-Savings feature?
To be eligible for the Auto-Savings feature, you must have at least one of the following active transaction accounts:
Glide
Everyday
Access
Basic
Fee Cruncher
The Only
Youth
You'll also need an active savings account. But don't worry, if you don't have one already you can open one in the Auto-Savings set up menu.
I can't see the Auto-Savings feature in the app, is something wrong?
There are a few reasons you may not see the Auto-Savings feature.
You may not meet the eligibility criteria above
We may not have enough data to determine if you can safely save. Our Auto-Savings feature requires at least 4 months of account activity to analyse and predict your spending habits and identify any savings opportunities.
You might already be a gun saver! If you're already saving regularly (go you!), our Auto-Savings feature will automatically determine that you don't need any extra help.
We might not be able to find any extra dollars to save for you. The Auto-Savings feature analyses your spending to identify savings opportunities, but if it can't find any you won't be able to activate the feature.
I'm expecting a few more expenses next month, will I still be able to save?
We'll never transfer more than we think you can afford based on your recent transaction history, but if you're expecting a change to your usual spending habits, you can pause, play or stop the Auto-Savings feature at any time. Pause for 1 week, 2 weeks, 1 month or 3 months, it's up to you!
How much will I save per month?
Our Auto-Savings feature uses your account activity and predicted "money in versus money out" to determine how much you can save each month, so the amount you will save depends entirely on your spending habits! You'll see a preview of how much we expect you to save in the Auto-Savings set up menu on the MyState Mobile Banking App.
How often does Auto-Savings transfer money to my savings account?
The frequency of Auto-Savings transfers depends on how often you're using your account. Auto-Savings will review and analyse your account every day and take action if it detects any extra dollars for saving. This means you could be saving daily, weekly, or monthly depending on how much (and how often!) money is coming in and going out of your account.
Can I set up Auto-Savings with a joint account?
Yes! You just need to make sure that your nominated savings account is also owned jointly, with the exact names that appear on your joint transaction account.
Joint account holders have equal control of the Auto-Savings feature, and they can pause, resume or stop Auto-Savings at any time.
Can I transfer money from my savings account back into my transaction account if I need to?
Of course, the Auto-Savings feature doesn't change the way you access your savings account and you're still 100% in control of the money you save.
You can move money out of your savings and back into your transaction account at any time, just as you can manually top up your savings if you want to move more money over.
App Store and the Apple logo are trademarks of Apple Inc. Google Play and the Google Play logo are trademarks of Google LLC.